Brand Experience Strategist, CEO of San Diablo Churros, Author of a good time
Scott Porter knows how to make positive memories.  In fact he's dedicated his entire life around them.  His passion in business revolves around creating a company culture so positive that people can't turn away.  And after successfully saving two Nursing homes from bankruptcy, he knew the key to success revolved around the company's culture.  He has dedicated his life to creating brand experience that make people want to stay. Period.  He has his own podcast and has authored a book all about this phenomenon of brand experience.  We chatted about the things that bring us joy, like having tacos with each other, sharing incredible conversations with each other, and how human connection can still exist while we are socially distanced from each other.  Great convos and insights from a great human.  Enjoy!
ABOUT HOST — CHARAN PRABHAKAR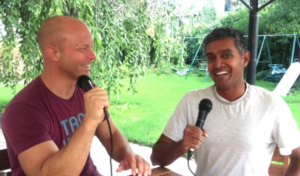 Charan Prabhakar Lemonade Stand Podcaster, Producer/Actor at Bellpond Films. Born on January 22, 1981 in Chennai, India.